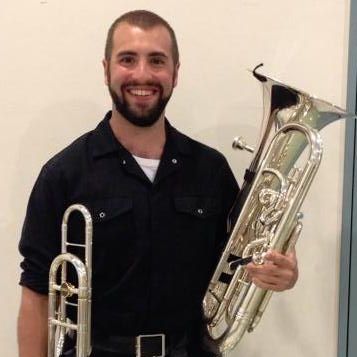 Ben Owens
Trombone
A Boston native, Ben holds a degree in music education from the University of Delaware and a Master's in trombone performance from Boston University.

In 2014, Ben went on to tour with Blast! in Japan as a trombone/euphonium swing. In 2016 and 2017, Ben was the trombone feature in Blast's brand new and current show, Blast! The Music of Disney. From 2015-2018, Ben was also working as a trombonist with Royal Caribbean Cruise Lines. He is currently the middle and high school band director in North Reading, MA and has worked with bands throughout the area. He is also an avid musical theatre fan, and is commonly seen in pit orchestras throughout Massachusetts and New Hampshire.

Ben's drum corps experience dates back to 2005 where he started as a baritone player with the Citations out of Burlington, MA. He marched with them until 2009 as a soloist, section leader and Horn Sergeant. He continued on to the Blue Stars from 2010 until his age out in 2012. Ben taught the Spartans Drum and Bugle Corps in 2018 and 2019, winning the open class championship last summer. Ben is also currently on the brass staff of the Cadets Drum and Bugle Corps.